(NJ.com Sep 14, 2018)
Akbar Cook, principal of West Side High School in Newark, sat across from Ellen DeGeneres on her talk show Friday, and couldn't believe he was there.
"I'm just so happy, I'm so nervous that I'm on the Ellen Show," he said, smiling, his hands fidgeting. "This is amazing. Wow."
It's understandable, Cook. She's big, but you have done something special to earn the right to be there, too.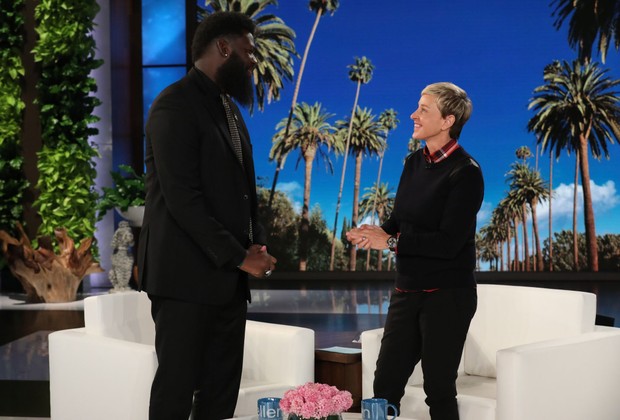 I wrote a column about Cook last month because he had washing machines installed at his school this summer to deter bullying and embarrassment for his students, who didn't want anyone to know that their families couldn't afford to wash their school uniforms.
The story went viral. Everybody took notice of Cook. Enter Ellen DeGeneres.
"When I found out about a high school principal from Newark, New Jersey who is doing incredible things to keep his students in school, I knew I wanted to have him on the show," DeGeneres said on her talk show.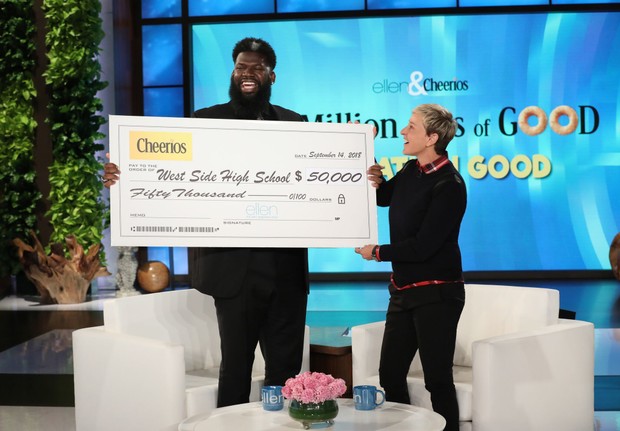 Akbar Cook on Ellen. (Credit Michael Rozman | Warner Bros.)
DeGeneres had a surprise for him, too. The talk show host, who has a partnership with Cheerios to encourage "One Million Acts of Good," gave Cook a $50,000 check for West Side.
"Oh My God," Cook said.
But there's more.
Cheerios also gave West Side a year supply of food to stock the pantry for the school's "Lights On" program that keeps kids off the street at night.
"Lights On," another Cook idea, started three years ago so young people would have a safe place to go from 6 p.m. to 11 p.m. A lot can happen to a young person in those five hours, and Cook didn't want trouble to find his kids.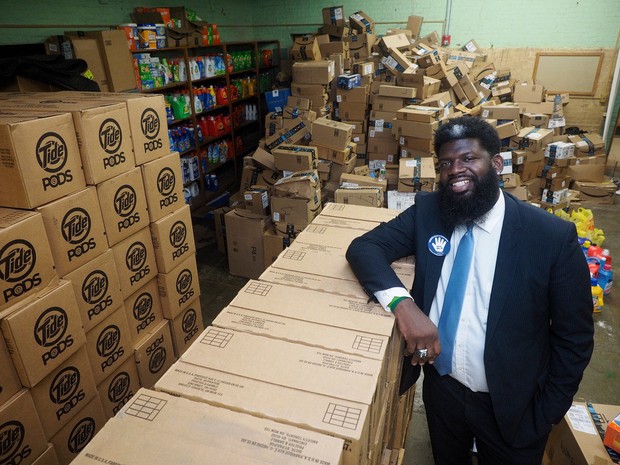 West Side High School principal Akbar Cook stands in a room filled with donations from around the world for the school's laundry room. September 11, 2018 (Patti Sapone | NJ Advance Media for NJ.com)
The laundromat idea came to Cook two years ago, when one of the students didn't want to have her bag checked by security before entering the building. Cook, a vice principal at the time, later learned that she had dirty clothes in the bag and no place to live.
"Just think how it must have been for her to show up to school like that," he said.
But Cook noticed that other students were not coming to school, choosing to stay home because of stained, unkempt clothing they couldn't clean.
For those who did show up Cook said classmates teased them for their slovenly appearance, and some took the humiliation a step further. They'd take pictures with cell phones and post them on social media.
Cook shared this story with the advisory council of the MCJ Amelior Foundation, which assists West Side with academic and enrichment programs.
The PSEG Foundation, a member of the advisory council, stepped in to help. It gave Cook a $20,000 grant to purchase five washing machines and five dryers.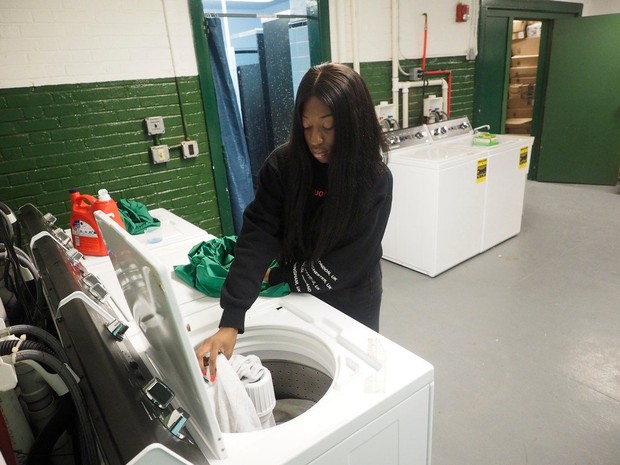 Musukulah Kromah at student at West Side High School in Newark prepares to wash a load of clothes at the school's laundry room. September 11, 2018 (Patti Sapone | NJ Advance Media for NJ.com)
In many ways, it's an extension of the "Lights On" program, where the school building is open three nights a week during the summer and every Friday during the school year. There's plenty of activities including open gym, yoga, video games, exercise classes, dancing and henna designs.
Cook wasn't crazy about the attention when I wrote a story a few years ago detailing his dedication to the program. He wanted it to be about the kids. He's still the same now, even though the national spotlight on him is well deserved.
"If you want to talk about me, I'm going to feel uncomfortable," Cook said. "If you want to keep talking about my babies, you got it."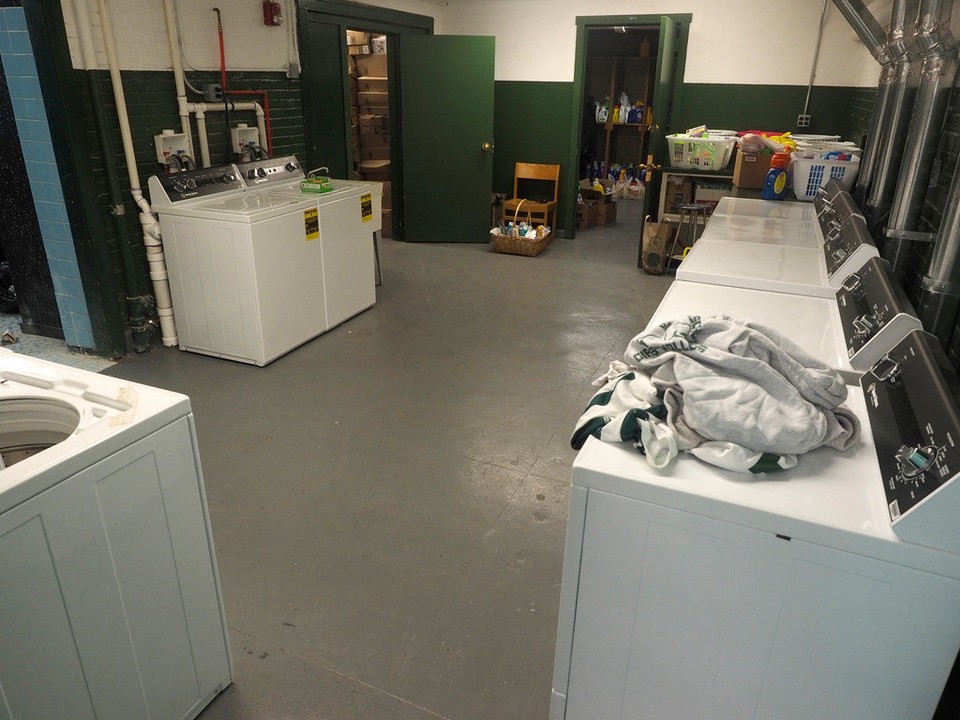 The laundry room at West Side High School in Newark. September 11, 2018 (Patti Sapone| NJ Advance Media for NJ.com)
He's a parent to them, a father figure from the time they enter the building until they've graduated and are gainfully employed.
"I want them to know that love,'' he told DeGeneres. "They know I'm there. I'm never leaving their side.''
For them, Cook has done interviews with a slew of national media. When DeGeneres called, Cook was stunned that this story had made it to her desk.
"I never thought I would be sitting in the chair next to Ellen,'' he said. "I'm just a kid from Newark who gets to talk about his kids from Newark.''
Her production crew visited the school last week to tape the washing machine segment and talk with students about Cook.
"I was blown away,'' said Rah-Asia Marrow, 17, who was one of several students interviewed.
"I felt like I was famous,'' said James Bell, also 17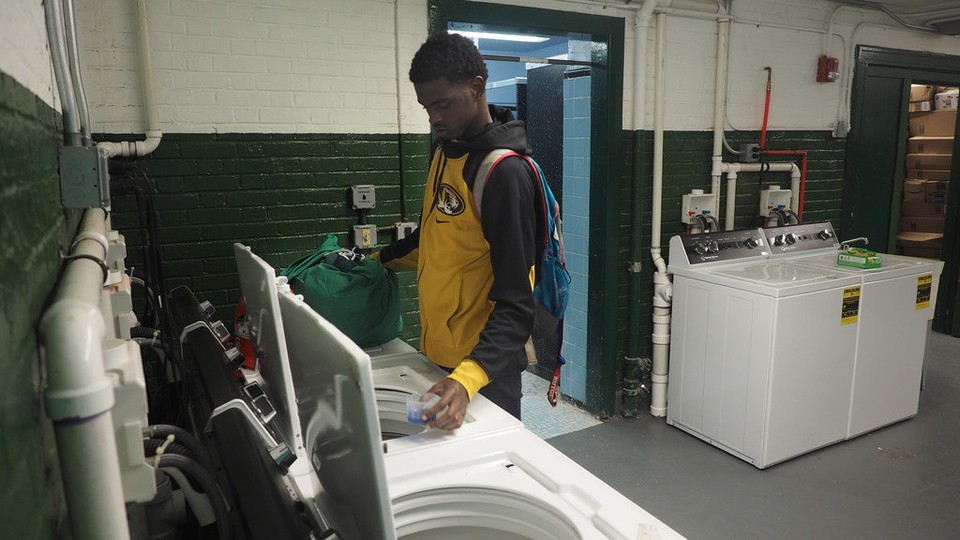 James Bell a student at West Side High School in Newark prepares to wash a load of clothes at the school's laundry room. September 11, 2018 (Patti Sapone | NJ Advance Media for NJ.com)
They are thrilled with the notoriety West Side is receiving, hoping it quells negative perceptions about their school. It's not a building, they say, where kids fight all of the time or a school that promotes athletics over academics.
Cook is a big part of changing that stigma. Students know and trust him. They go out of their way to greet him when they see him. It could be at a school football game, after school or in the hallway.
"He…cares about the kids," said Musukulah Kromah, 18. "He connects with us."
DeGeneres has latched on to him, too.
"I admire you for what you're doing and these kids are really lucky to have you, because you're somebody they can look up to," DeGeneres said.
Cook, a modest man, is deeply moved and grateful for the unexpected recognition.
And, it didn't stop with Ellen. Gov. Phil Murphy left a voice message praising him. Keyshawn Johnson, a former NFL wide receiver who won a Super Bowl with the Tampa Bay Buccaneers, talked to him as well.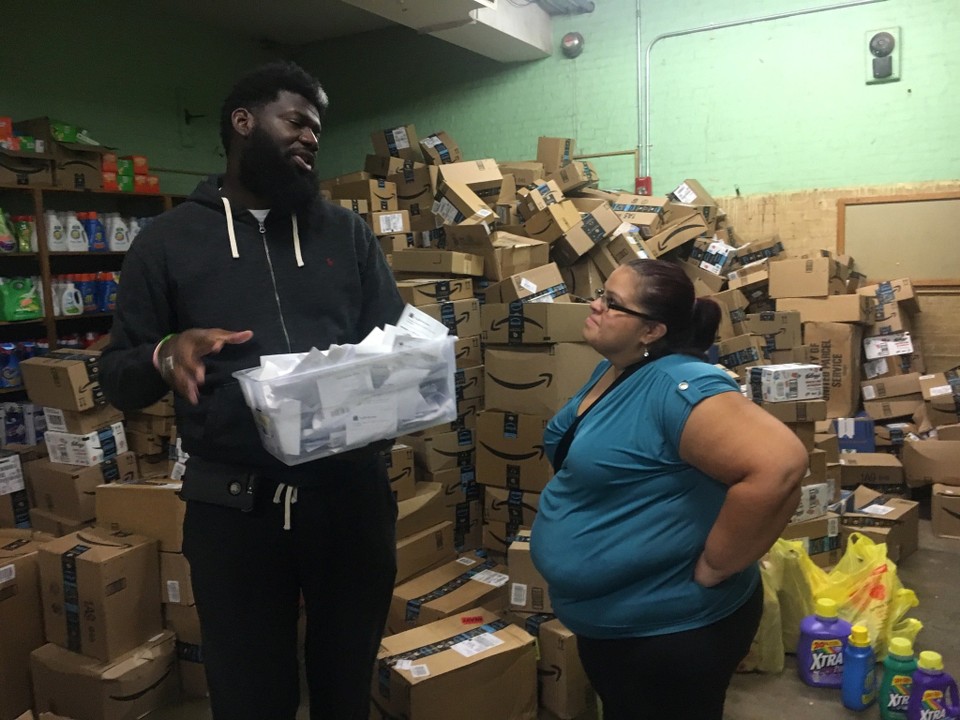 Principal Akbar Cook talks with Raquel Olayah, a Garfield resident who donated some supplies for laundromat. (Barry Carter | NJ Advance Media for Nj.com)
All of it has been overwhelming. Right now, Cook said enough detergent has been donated to the school to easily wash more than 250,000 loads.
In an old classroom that now looks like a warehouse, there are boxes stacked high with dryer sheets, lotion, deodorant and bleach. The gifts have come from all across the country and as far away as Germany, Norway, Serbia and Africa.
Raquel Olayah was more local, making the 12-mile drive from Garfield last Saturday when she saw the story on Facebook.
"I felt like he was a Godsend," said Olayah when she dropped off some detergent. "I had to do something."
Newark's hometown son was still on cloud nine hours after he taped the Ellen Show on Thursday. He was clearly nervous sitting there, but settled in to talk about his kids.
"It hasn't sunk in yet," he said from his hotel room.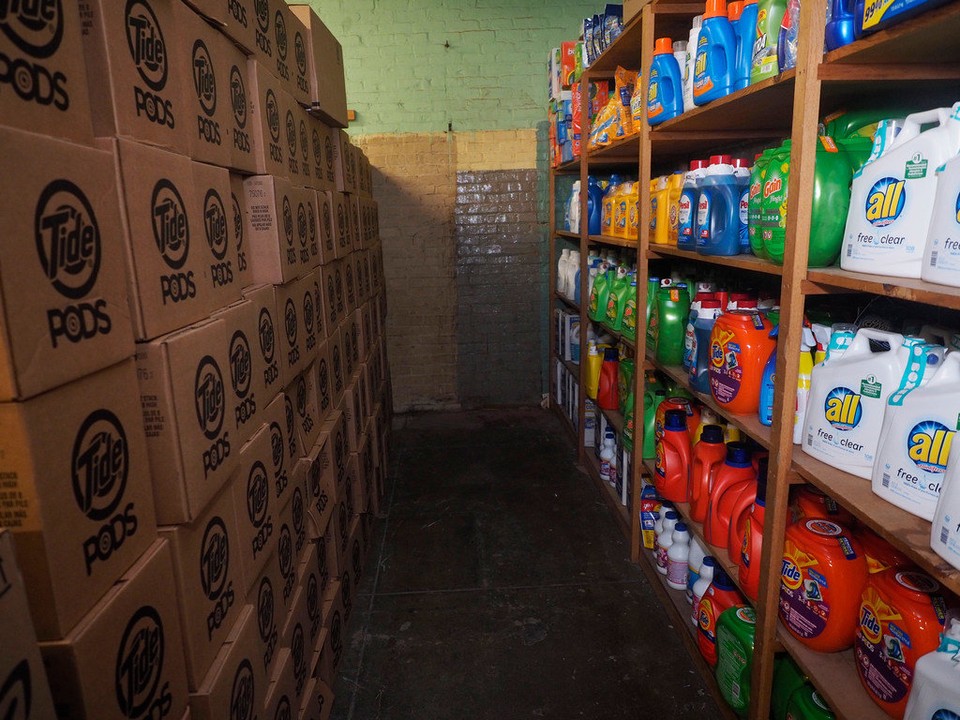 Donations made from around the world for West Side High School's new laundry room in Newark. September 11, 2018 (Patti Sapone | NJ Advance Media for NJ.com)
Now, after Ellen, Cook said he's determined to work even harder for his students.
The $50,000 is in good hands. It will be used to offset costs of the "Lights On" program. The school needs air conditioners, too. Whatever barriers to education that need to be removed, Cook will make sure the money is spent wisely so his kids can learn.
He'll do anything for his school family, an endearing word Cook breaks down to tell students how much he cares about them.
F-A-M-I-L-Y.
"Forget About Me, I Love You."
"I'm going to continue to do what I do," he said.